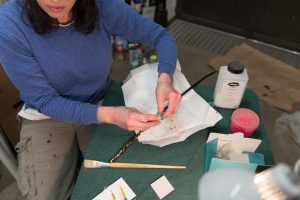 Bow Arts RAW Open Studios
Bow Arts have created 40 affordable studio spaces at Royal Albert Wharf in an exciting development with Notting Hill Housing. The internal spaces were fitted out working with Delvendahl Martin Architects. The studios are set within a large and evolving new housing and commercial development within the historic Royal Albert Docks, the largest enclosed docks in the world, surrounding nearly 250 acres of water. The whole area is set to gain over 9,000 new homes by 2027. All the studios are set close to the water, in what really is a unique environment in London.
Our open studios are a fantastic opportunity for members of the public, curators, and collectors to explore a vast and diverse selection of work and to meet some of London's brightest emerging and established artists.
Event run by Bow Arts Trust and Notting Hill Genesis.
For your visit
Activities
NASSA Sport
Community basketball club for 8 to 18 year-olds from Newham, in partnership with UEL.
Food & Drink
Galyons Bar & Kitchen
This 19th-century dockside inn has recently been reborn as a waterside gastropub.
Activities
SportsDock
State-of-the-art UEL sport facilities, offering martial arts, table tennis, badminton, and more.