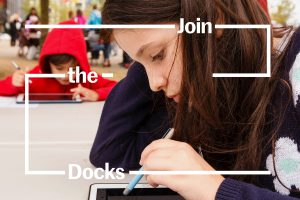 'Boat Race' Digital Self-Portrait Workshop at the Ferry Festival
Come along and create a unique digital self-portrait using an intuitive creative app on iPads, at this fun workshop for all ages, at the Ferry Festival.
Playing on the Cockney Rhyming Slang for 'face', a selfie photograph taken against the iconic landscapes of The Royal Docks will provide the inspiration for your self-portrait.
Your completed self-portrait will be added to an evolving exhibition at The Silver Building.
Go and find your Boat Race projected on the walls of The Silver Building gallery from 17th – 23rd August.
Boat Race is an opportunity for families to learn new skills together, celebrate the eclectic faces, 'Boat Races', of the diverse Royal Docks communities and explore its unique environment.
For your visit
Food & Drink
Heroica Lounge
It's a bus, it's an Italian restaurant; you decide whether to order pizza or pretend to drive.
Places To Stay
Aloft London ExCeL
Four-star Marriott hotel with a dockside restaurant terrace, wood-lined interiors, and a striking skyline.
New Arrival
Art & Culture
Making Space: The People's Plan
Large-scale artwork reproducing 'The People's Plan for the Royal Docks,' a 1980s community-led project to oppose the airport. Part 2 of artist Jessie Brennan's 4-part work.