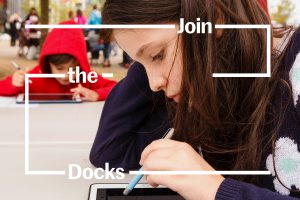 'Boat Race' Digital Self-Portrait Workshop
Come along and create a unique digital self-portrait using an intuitive creative app on iPads, at this fun workshop for all ages.
Playing on the Cockney Rhyming Slang for 'face', a selfie photograph taken against the iconic landscapes of The Royal Docks will provide the inspiration for your self-portrait.
Your completed self-portrait will be added to an evolving exhibition at The Silver Building.
Go and find your Boat Race projected on the walls of The Silver Building gallery from 17th – 23rd August.
Boat Race is an opportunity for families to learn new skills together, celebrate the eclectic faces, 'Boat Races', of the diverse Royal Docks communities and explore its unique environment.
For your visit
New Arrival
Business
Expressway London
Expressway is a community of almost 200 thriving businesses facing onto Royal Victoria Dock. Recognised as a place where creative enterprises, SMEs and start ups can flourish, no two of their businesses are alike but all are like minded.
Food & Drink
The Living Room
The Good Hotel's floating restaurant dishes up locally-sourced comfort food with a Spanish twist.
Places To Stay
Connaught House Hotel
This Grade II-listed building provides comfortable rooms and classic pub dining.