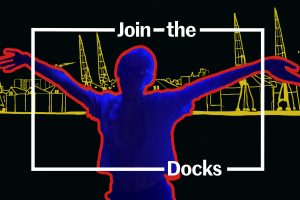 'Boat Race' Digital Self-Portrait Exhibition
An exhibition curated by Salmagundi Films for Join The Docks Festival.
Boat Race is an evolving projected installation of vibrant digital self-portraits produced using iPads by participants at Join The Docks Festival workshops.
Boat Race celebrates the rich heritage and legacy of The Royal Docks, its intrinsic relationship with The River Thames and its diverse communities.
What Floats your Boat?
Boat Race portraits produced by participants at:
Summer Garden Party – St John's Green, North Woolwich
International Play Day – Thames Barrier Park
Ferry Festival – Royal Victoria Gardens, North Woolwich
Good Hotel - Royal Victoria Dock
For your visit
Community
London Borough of Newham
The dockside HQ of Newham Council.
Activities
London Royal Docks Open Water Swimming
Swim outside year round against the historic backdrop of Royal Victoria Dock. Safety tagging included.
Food & Drink
Tereza Joanne
Tereza Joanne's main function room holds 300 buffet-style; find this barge permanently moored on Albert Island.