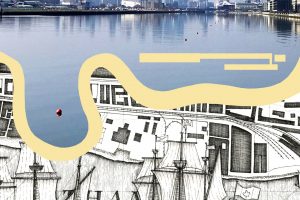 All Along the Dock Edge
Head east to the Royal Docks and collect your illustrated guide to this intriguing east London walk, by artist Anna Gibb. The route takes you along the northern edge of the Royal docks - from Royal Albert Wharf, the point where the docks meet the Thames, towards Royal Victoria with its backdrop of Canary Wharf.
This large body of water, once the largest enclosed docks in the world, offers the opportunity to really embrace a sense of open space. The walk takes you through the history of the industrial docks to the future of its planned developments. Along the way you'll see shipping cranes, the site of a 1980s concert with lasers and fireworks which attracted 200,000 people, and you'll hear the noise from the airport juxtaposed with cormorants and Canada geese.
The walk is just under 3 miles and should take around an hour at a leisurely pace. There are places to buy refreshments along the way and the DLR runs parallel to the route.
Your illustrated guide can be collected from either the east or west end of the docks at the following locations, all of which are a short walk from the DLR:
Read more about Anna's walk here. Part of the London Festival of Architecture 2019.
For your visit
Community
North Woolwich Library
This is more than a library; here you'll find a homework club, model railway society, and more.
New Arrival
Art & Culture
RAW Labs
Sample an impressive range of art events and workshops, or just the great coffee, at this Bow Arts caff.
Community
Royal Docks Learning & Activity Centre
RDLAC has spent 50 years serving the North Woolwich community, from after-school clubs to conservation projects.