Regeneration news
Tour de Docks: get cycling with Brompton Bike Hire
Still water, broad pavements, wheels for hire, and not a car in sight — all the ingredients for a cycling holiday in Europe. Except this is Royal Victoria Dock.
We're delighted to announce that Brompton Bike Hire is now available at the Royal Docks. Now you are able to hop on a bike and pedal along the area's majestic waterfront from just £3.50 a day. The first of these two new bike stations is located immediately adjacent to The Crystal building, close to Royal Victoria DLR, with the second bike station located at the Royal Albert DLR and opposite Newham, Dockside.
Brompton's hire scheme is known for good value, its lightweight bikes, and an easy-to-use reservation system that works online or by SMS. The foldable Bromptons are also the only hire bikes in the UK that you can take on a train, really opening up possibilities along the Royal Docks' extensive DLR network. They can be returned to any Brompton dock, meaning, for example, that adventurous cyclists could ride all the way to Stratford, drop off the bike there, do a spot of shopping, and catch the DLR home.
Each docking station holds eight bikes, with regular maintenance and upkeep. These two locations are a great addition to the already established network of bike stations which include Stratford, Canary Wharf, and North Greenwich providing cyclists with easy access across the city.
Much of the Royal Docks' 12 miles of waterfront is already perfect for cycling: quiet, wide, and traffic-free. Travelling from north to south is more of a challenge. Train lines, roads and the water itself act as a barrier that runs from east to west — historic infrastructure that wasn't built with pedestrians or cyclists in mind. Then there's that bit where the dockside path comes to an end before the Millennium Mills.
Improving this experience is at the heart of our Public Realm Works Programme. This ambitious programme will invest in making the area a rich and connected piece of the city over the next ten years and beyond.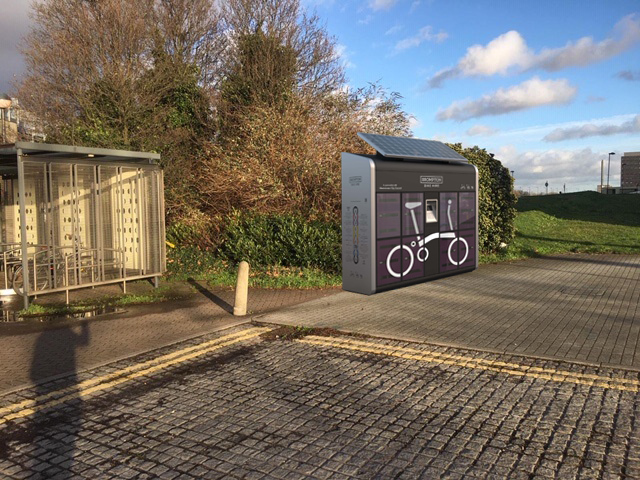 Highlights for bikes include a well-signed loop stretching all the way around Royal Victoria Dock, as well as investment in north-south crossings such as Connaught Crossing and the routes from Freemasons Road down to the Thames. Silvertown Way and North Woolwich Road will be transformed into walker and cyclist-friendly routes, as well as connected in with The Leaway to the north and places to experience wildlife along the River Lea. While these plans are yet to be finalised, you can read the full report here and we will update you on this site as ideas evolve.
Nowhere in London has a waterfront quite like this, and we're committed to unlocking its potential. Our partnership with Brompton Bike Hire is a step towards making sure these beautiful spaces are enjoyed every bit as much as the Southbank or the Seine.
---
Reserve your first bike from Brompton here.
Stories from around the docks