Regeneration news
The Royal Docks: a beacon for the London Living Wage
To mark Living Wage Week 2023, the Royal Docks Team, in partnership with Newham Council, Lendlease and the Living Wage Foundation, hosted a celebratory and networking event at City Hall to celebrate the fantastic achievements of the Royal Docks' Living Wage Action Group as well as encourage more employers to commit to paying a fair wage.
Last year, the Royal Docks was one of the first areas in the country to become an accredited Living Wage Place – with a growing number of local employers including ExCeL London, London City Airport, Tate & Lyle Sugars, and the University of East London, all signing up to become Living Wage accredited and committed to paying a fair wage for all their employees, including those in their supply chains.
The event itself was spearheaded by Lendlease, the first developer of their size to become a Living Wage employer, across their entire UK portfolio. This means that all Lendlease staff and their supply chain sub-contractors are guaranteed to receive a living wage for the work they complete on a Lendlease development.
Guests were treated to a lovely performance from St Anthony's, a local Newham primary school and the first in the UK to accredit as a living wage employer. They also heard from local employers, large and small, about the positive experiences of becoming Living Wage accredited, and the clear benefits that it delivers for employers and employees.

We have a responsibility to play a leading role in defining and delivering the future of the city, and building the Living Wage into the future growth of the Royal Docks will be central to this.
Mayor of Newham, Rokhsana Fiaz
The event was hosted just two weeks after the announcement of a 10% increase in the London Living Wage to £13.15, so was a fantastic moment to showcase the benefits and promote accreditation to employers, stakeholders and the public.
The Mayor of London, Sadiq Khan, has put the Living Wage at the heart of his Good Work Standard, which sets the benchmark for good employment practice in London. Since taking office, the number of employers paying the Living Wage has increased six-fold, affirming his pledge to make London a Living Wage City and forming part of a wider package of support for Londoners including initiatives such as London Living Rent and Homes for Londoners.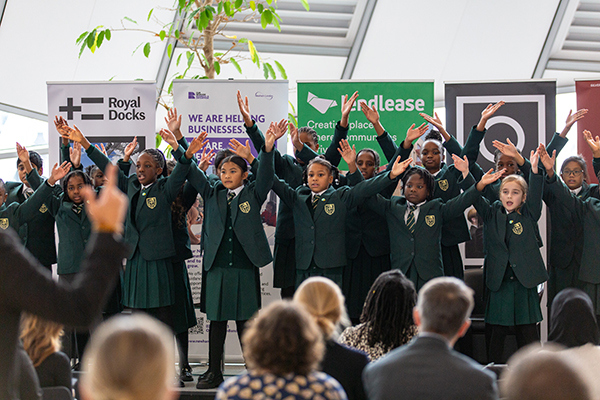 Keynote speakers included the Mayor of Newham, Rokhsana Fiaz, Ed Mayes, the Development Director at Lendlease, and the Royal Docks Team Programme Director, Dan Bridge. There was also a panel discussion with representatives from Enabled Living Healthcare and Newham Money A&E amongst others.
Earlier this year, the Royal Docks received the 'Living Wage Places Champion' award in recognition of its outstanding efforts in expanding the number of Living Wage employers and facilitating pay rises in the local community.
"It goes to the heart of what we're trying to achieve - a new area for the city that is built on economic justice, equality of opportunity, and economic vitality".
Dan Bridge, Royal Docks Programme Director

"My ambition is to make Newham a London Living Wage borough - and ensuring that the Royal Docks, London's only Living Wage Enterprise Zone, is central to our plans. There is a huge opportunity here over the next 20 years. We have a responsibility to play a leading role in defining and delivering the future of the city, and building the Living Wage into the future growth of the Royal Docks will be central to this."
Mayor of Newham, Rokhsana Fiaz
For more information on how to become Living Wage accredited visit the Living Wage Foundation or email taskia.khan@livingwage.org.uk
Stories from around the docks