Events
Clear open spaces, full hearts, can't lose: getting active in the Royal Docks
Feeling a bit cooped after all these months? The Royal Docks is the perfect place to get outside, and finally get moving. There is plenty of space to stay socially distanced while engaging in exercise outdoors — or just to savour being out of the house for a stroll.
For working towards your first 5K
Every Saturday at 9am, runners gather at the Royal Victoria Dock for a friendly 5km timed run. If you'd rather practice on your own, there are picturesque trails galore to get that endurance up; here are four routes for running or walking that take you past some of the Royal Docks' best-loved buildings, or you can head out along The Line, the sculpture trail that runs through the area. If you end up in Thames Barrier Park, One Element provides outdoor fitness classes, promising a full-body workout alongside this elegant feat of modern design and engineering.

For athletes with an eye on the prize
The Royal Docks is home to one of the best gyms in the country: SportsDock. This state-of-the-art fitness centre is frequently used by professional athletes looking to keep their edge ahead of competitions. Ahead of the 2012 Olympics, the US team chose SportsDock as its UK base. Elsewhere around the docks there are plenty of activities aimed at experienced athletes, especially if you're into water: Royal Docks Adventure Trust offers dragon boating, outdoor rowing and indoor tank rowing to clubs wishing to work out in style.
For a day out with the children
After all that time indoors, what better way to blow off some steam than to hit the water? WakeUp Docklands will teach you stand-up paddleboarding or wakeboarding on a cable — or, if you know your stuff already, hydrofoiling. Wakeboarding has seen a surge during lockdown, as WakeUp Docklands' Jon Byrne told BBC Breakfast in July of this year. "People are extremely eager to come out," he said, adding that spending time on the water has a way of clearing your head. The same can be said for open water swimming, which is also back on in the Royal Docks. Just imagine taking slow laps surrounded by the cityscape, seeing it all from a brand new perspective.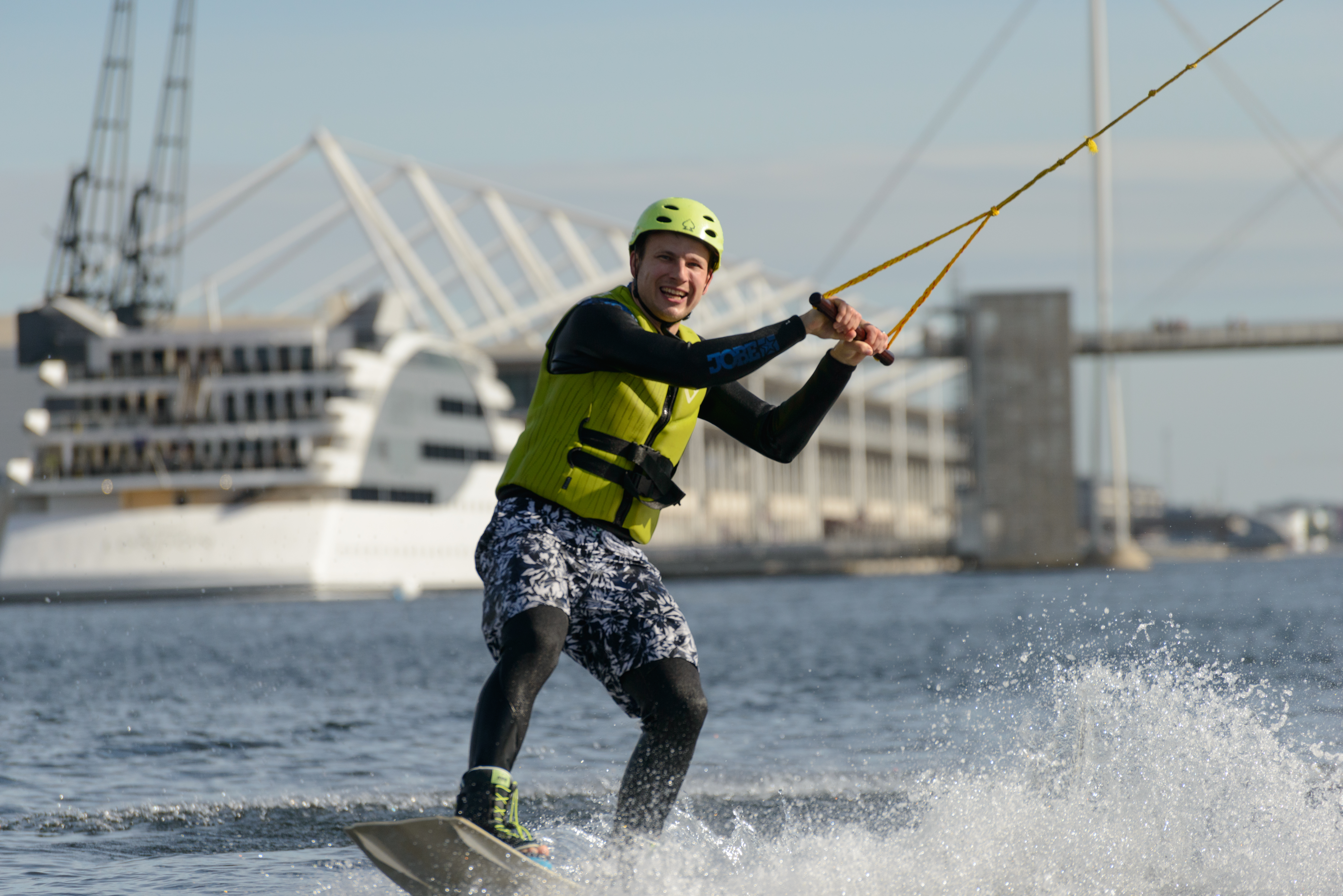 For a socially distanced meet-up
Meeting with friends in the age of social distancing is a challenge. If you're looking for something that feels a bit freer but still adheres to the two-metre rule, consider hiring a Brompton bike for a whizz around the docks. The bikes can be picked up and dropped off next to the Crystal building, and close to the Royal Victoria DLR, with another bike locker coming soon to Royal Albert DLR. Since they fold, you could even take one on a train, but if you fancy a day out along 12 miles of waterfront without worrying about traffic, stick to the Royal Docks. There are plenty of green spaces along the way to stop for a rest and a sit-down, such as the newly landscaped Royal Victoria Gardens.
For young people with cabin fever
Young people who want to get active have some great programmes to choose from locally. Martial arts club Fight for Peace have kept it up even during lockdown, but on a normal day, boxing, jiu jitsu and other high energy sports are taught in groups to help build resilience and self confidence. NASSA, Newham All Star Sports Academy, has lots of after-school and weekend offers for young people, including opportunities to become qualified trainers. The goal of this community organisation is to provide a real alternative to anti-social behaviour, and to make sports accessible to everyone.
---
Explore even more places to go and things to do here. For more information on the guidelines, visit the government website.
Stories from around the docks