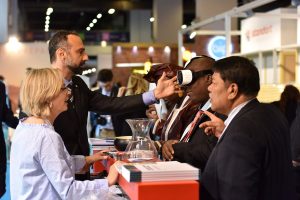 Past Events
World Humanitarian Forum 2019
International thought leaders gather at the ExCeL centre this month for the World Humanitarian Forum. Addressing a critical juncture in which more people are displaced from their homes than ever before, the forum will engage in future-focused dialogue to shape the future of international development.
Located alongside Aid & Trade London, International Disaster Management Exhibition, and Emergency Show, the Forum's keynote speakers this year are Tony and Cherie Blair. The organisers expect participants from over 50 countries.
For your visit
Business
ExCeL London
The international convention centre has hosted everything from Comic Con to the Olympics.
Food & Drink
The Crystal Café
Overlooking the docks, this cafe serves home-made salads and bistro-style sandwiches.
Activities
Royal Docks CrossFit
Gym dedicated to CrossFit, the gruelling strength and conditioning phenomenon that athletes swear by.