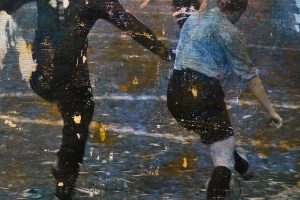 Art & Culture
Unsuitable for Females
On December 5th 2021 it will be one hundred years since the Football Association banned women's football stating that "the game of football is unsuitable for females and should not be encouraged". The ban stood for 50 years.
Artist Sarah Lang's involvement with women's football, as a founder of Limehouse Laces, a community girls football club, is an important part of her life and her art practice. This event to mark the centenary runs from November 25th to December 5th at Art in the Docks Space in the Royal Docks. It brings brings together Sarah's work with that of other artists as well as a full schedule of talks and activities. Speakers include sports journalist Carrie Dunn, author of "Pride of the Lionesses" and "The Roar of the the Lionesses" ; Tim Tate, author of "Girls With Balls - the secret history of women's football" and Anastasia Kutcha, an artist, designer and footballer who designed the1921 commemorative kit for Goaldiggers FC.
The purpose of the event is to celebrate the pre-ban pioneers of women's football who played in front of crowds of tens of thousands, before being erased from the game at the stroke of a pen; to consider the present state of the game and how, despite recent progress, the effects of the ban still linger and to look forward and imagine a future where it truly is the beautiful game.


Opening Hours
November 25th to December 5th 2021
Thursdays 5:30pm - 9pm
Fridays 5:30pm - 9pm
Saturdays 12pm - 5pm
Sundays 12pm - 4pm
Location
Art in the Docks Space
Hamme Building, Shackleton Way,
London E16 2XJ
Nearest station - Gallions Reach DL
For your visit
Food & Drink
Il Volo
Il Volo serves Italian comfort food that salutes the docks' history at the centre of world trade.
Art & Culture
The Line
Sculpture trail leading from the O2 to the Queen Elizabeth Olympic Park via Royal Victoria Dock.
Community
Asta Community Hub
Asta takes a holistic approach, supporting the North Woolwich and Silvertown community from birth to old age.