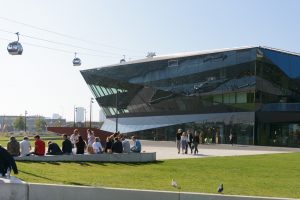 The Crystal Exhibition Tour
Free guided tour of The Crystal exhibition: The Future of Cities featuring interactive exhibits, films, and animations, allowing visitors to explore a range of issues including city trends, urban planning, smart buildings, safety and security, energy, water, healthy lifestyles, environment, and mobility.
For your visit
Food & Drink
The Crystal Café
Overlooking the docks, this cafe serves home-made salads and bistro-style sandwiches.
New Arrival
Art & Culture
Making Space: The People's Plan
Large-scale artwork reproducing 'The People's Plan for the Royal Docks,' a 1980s community-led project to oppose the airport. Part 2 of artist Jessie Brennan's 4-part work.
Attractions
The Crystal
One of the world's most sustainable buildings imagines the future of cities with a ground-breaking exhibition.