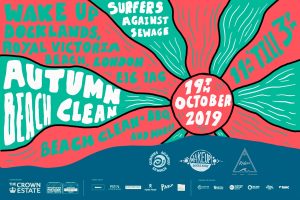 Events
Surfers Against Sewage - Autumn Beach Clean
This year as part of the SAS Autumn Beach clean, SAS London is rallying the troops in what they hope to be the biggest beach clean effort London has seen so far.

The Autumn Beach Clean has been running annually since 2011 and is part of a movement by national charity Surfers Against Sewage (SAS), which aims to protect coastlines, create cleaner oceans and clean up inland areas.
Thousands of community volunteers rally their every year to remove plastic pollution for a cleaner, safer environment - whether beach, river, street or mountain.
Over the last few years, the Autumn Beach Clean has seen 1,419 cleans organised, mobilising 50,033 volunteers to clear 114,341kg of plastic pollution from beaches and rivers across the UK to date.

Join the gathering at WakeUp Docklands from 11am on Saturday 19 October for a full afternoon of family fun: paddleboarding, Beach cleans, Nurdle sieving, poster making, food, drink and saving the planet!
For your visit
New Arrival
Art & Culture
RAW Labs
Sample an impressive range of art events and workshops, or just the great coffee, at this Bow Arts caff.
Community
University of East London
UEL's docklands campus is known for its state-of-the-art sports facilities and formiddable reputation.
Outdoors
Royal Wharf Gardens
In this garden in the centre of the Royal Wharf development, you'll find a memorial to the Silvertown Explosion.