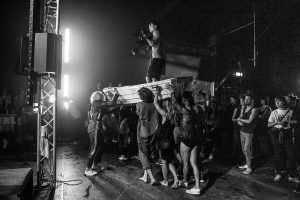 Art & Culture
Ship Building by Certain Blacks and Svalbard
'Ship Building' was a Research and Development project produced by Certain Blacks in collaboration with Svalbard, supported by the Royal Docks Team as part of the Join the Docks 2020 Research and Development funding.
'Braintown', was live streamed from Lightship 93, with audiences able to experience part of the R&D in process. It featured music, contemporary dance, circus and cinema performed by Svalbard in collaboration with Deadbeat Films and was produced by Certain Blacks as part of its research and development project, Ship Building.
Please note: This piece is rated 15+, it contains brief nudity that is not appropriate for younger audiences.
For your visit
Community
University of East London
UEL's docklands campus is known for its state-of-the-art sports facilities and formiddable reputation.
Business
Tate & Lyle Sugars
This refinery on the banks of the Thames has been producing sugar by the tonne for over 140 years.
New Arrival
Food & Drink
The Royal Standard
The Royal Standard has re-opened under new management as a family-run pub that welcomes everybody, including children until 6pm.