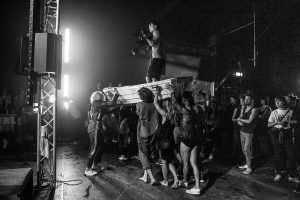 Join the Docks
Ship Building by Certain Blacks and Svalbard
'Ship Building' was a Research and Development project produced by Certain Blacks in collaboration with Svalbard, supported by the Royal Docks Team as part of the Join the Docks 2020 Research and Development funding.
'Braintown', was live streamed from Lightship 93, with audiences able to experience part of the R&D in process. It featured music, contemporary dance, circus and cinema performed by Svalbard in collaboration with Deadbeat Films and was produced by Certain Blacks as part of its research and development project, Ship Building.
Please note: This piece is rated 15+, it contains brief nudity that is not appropriate for younger audiences.
For your visit
New Arrival
Food & Drink
The Windjammer
The Windjammer is a stunning pub with a big focus on fresh, seasonal food, a community atmosphere and exceptional service.
Community
Royal Wharf Community Dock
From adult ballet classes to dance and drama classes for kids, this new centre in the heart of Royal Wharf has begun with a bang.
Food & Drink
The Oiler Bar
Bars on boats are always a good idea, especially when they have a cocktail bar downstairs.