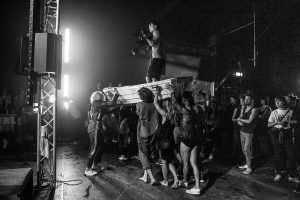 Art & Culture
Ship Building by Certain Blacks and Svalbard
'Ship Building' was a Research and Development project produced by Certain Blacks in collaboration with Svalbard, supported by the Royal Docks Team as part of the Join the Docks 2020 Research and Development funding.
'Braintown', was live streamed from Lightship 93, with audiences able to experience part of the R&D in process. It featured music, contemporary dance, circus and cinema performed by Svalbard in collaboration with Deadbeat Films and was produced by Certain Blacks as part of its research and development project, Ship Building.
Please note: This piece is rated 15+, it contains brief nudity that is not appropriate for younger audiences.
For your visit
Food & Drink
Airline Cafe
No one complains about all-day breakfast for under a fiver. Right next to the ExCeL, this cafe-diner opens early to late.
Community
Shipman Youth Zone
Drop-in youth centre for 11-19 year-olds with snooker, table tennis, and computer facilities on offer.
New Arrival
Food & Drink
Triple Two Coffee
Located inside the Royal Wharf Clubhouse, Triple Two Coffee sits within the focal point for daily health and fitness classes, swimming and neighbourhood events.