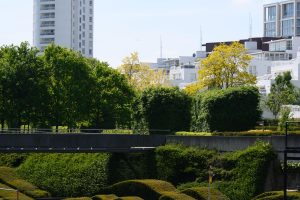 Royal | Docks | Works – SURFACE + PROPERTY
What does it mean to 'make' the Royal Docks and who benefits?
Royal | Docks | Works are two Saturday events celebrating and exploring current and future life in the 'Royals' through drop-in days that include talks by artists, activists and urban thinkers, dialogue sessions, exhibitions, local walks and free food.
These events are open to all: designed to be a mashup of ideas from different perspectives, appealing to all the senses with a little something for everyone.
PROGRAMME for Saturday 22 June 2019
10.00 | Arrival & introduction
10.30 - 11.15 | Panel Part 1: Making the Docks Together
Lorraine Leeson, cSPACE - Art as a Tool for Social Change: the Docklands Community Poster Project and its legacy
Phil Cohen, Citizen's Atlas - Citizen asset mapping
Graeme Sutherland, Peckham Coal Line - Community use of space
11.15 - 11.30 | Tea Break
11.30 - 12.15 | Panel Part 2: In dialogue
12.15 - 14.30 | Community Big Lunch - all welcome to help chop and chat and of course, eat! AND during lunch, check out a student exhibition presented by Giorgio Talocci and Karen Waneska, Development Planning Unit, UCL
14.30 - 15.30 | Activate the Park: Community workshop with Kiran Chahal
16.30 | Reflections and drinks in the Park
The Royal | Docks | Works programme for the London Festival of Architecture (LFA) 2019 examines the progressive urban process that has made and is still remaking this city edgeland, uncovering the active and hidden landscape via participatory and co creative acts of exploration, proposition and reflection. The work will look specifically at the practice of planning and design in shaping the 'island in the east' as a marketable asset, a city resource and shared place for fostering local economies, communities and cultures.
Photo: Tian Khee Siong.
For your visit
Places To Stay
Connaught House Hotel
This Grade II-listed building provides comfortable rooms and classic pub dining.
Food & Drink
The Oiler Bar
Bars on boats are always a good idea, especially when they have a cocktail bar downstairs.
Activities
Emirates Air Line
This cable car flying between the Royal Docks and North Greenwich offers panoramic views of the river.