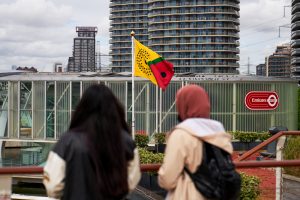 Royal Docks Summer Programme
Public art and The Line at the Royal Docks this summer
Enjoy public art at the Royal Docks this summer, learning from a group of local youth guides providing information and sharing their creative ideas.
What I Hear I Keep, by British-Ghanaian artist Larry Achiampong, is a flag sited on the roof of the Good Hotel and forms part of a series of flags and symbols that Achiampong has created to highlight and celebrate African identities. It accompanies his site-specific audio work for The Line, Sanko-time, which was composed for the 20-minute round-trip on the Emirates Air Line cable car from the Royal Docks to Greenwich Peninsula, reflecting on the historical context of the River Thames.
Achiampong joins Laura Ford's Bird Boy - an intriguing figure of a child in a bird costume standing on the edge of a pontoon - and a large-scale Madge Gill installation, which forms part of The Line's wider Madge Gill: Nature in Mind exhibition in Newham.
Meet The Line's Youth Guides every Saturday and Sunday 12 - 4pm throughout July, August and September! A group of local 18–21-year-olds will be engaging the public in conversation about the works of art, nature and heritage on The Line, providing information and sharing their ideas.
For your visit
Food & Drink
Top 1 Forever
Modern British restaurant overlooking of the water, with a wood-fired oven.
Places To Stay
Connaught House Hotel
This Grade II-listed building provides comfortable rooms and classic pub dining.
New Arrival
Business
Duffy London
Duffy London is a Design Studio from Christopher Duffy producing ideas-based pieces of modern furniture and sculpture. The studio combines art with function to design and manufacture a range of limited edition collections that play on the concepts of gravity, geography, and illusion.
Similar events