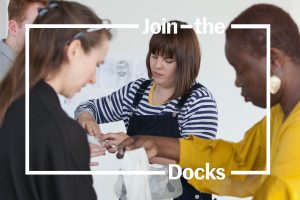 Join the Docks
Newham for Empathy: A Public Artwork
Take part in a large public artwork live on location in the Royal Docks. For one week in July, a group of four young local volunteers from the HeadStart programme will stage a piece as a part of artist Enni-Kukka Tuomala's ongoing Campaign for Empathy.

To get involved, follow @akin.kollektiv on Instagram for daily updates on where the artist will be from 10am–12:30pm each day.
Alternatively, pop by the Campaign for Empathy HQ at RAW Labs for a free cup of tea and a chat whilst the artist and her team make the piece from 2pm–5pm.
This event is fully accessible.

For your visit
Places To Stay
Moxy London ExCeL
Marriott's boutique brand, Moxy, offers a laid-back alternative with cheerful colours and cheaper rates.
Food & Drink
Yi-Ban
This Chinese restaurant occupies a floor of the London Regatta Centre overlooking the Docks, meaning diners can plane-watch over a plate of dim sum.
Places To Stay
Hampton by Hilton
A reliable, upper mid-range option just east of Connaught Bridge.