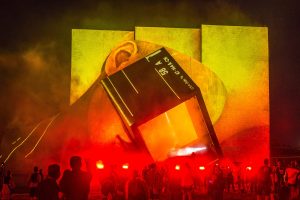 Art & Culture
IICON by Block9 Digital
IICON by Block9 Digital a is a research and development project funded by Join the Docks and the Royal Docks team. As part of this R&D project, Block9 are working on the next stage of their IICON project, bringing their immense sculptural artwork, architectural intervention and immersive music project to life in an online three dimensional interactive environment.
Block9 is led by Gideon Berger and Stephen Gallagher and explores the space where art, music, theatre and politics collide, often through the construction of complete, immersive temporary realities. The first part of the IICON project first debuted at Glastonbury in 2019 as a new outdoor arena that also acted as an immersive audio-visual experience, with a huge sculptural element mixed with heart-pounding futuristic dance music.
The highly anticipated next part of the project is currently under development, so please check back here, follow our Facebook, Twitter and Instagram, or register for our newsletter to find out more.
For your visit
Attractions
City Hall
One of the world's most sustainable buildings is also a striking landmark.
Food & Drink
La Barrique
Welcoming wine bar just outside the ExCeL centre, with continental salad, pizza, and sandwiches.
Outdoors
Thames Barrier Park
This dramatically-landscaped park is the best place to watch the Thames Barrier in action.