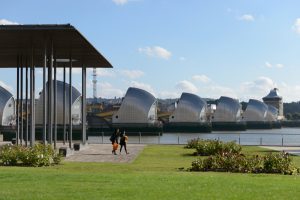 Events
Have your say: Thames Barrier Park consultation
When Thames Barrier Park opened in 2000, it was London's largest new riverside park in over 50 years. Home to an abundance of wildlife, and with facilities that include a basketball court, picnic areas and a visitor pavilion with spectacular views of the river and Barrier itself, it's no wonder the park is loved by its users.
This year the park celebrates its 20th birthday, and we are keen to get your thoughts and comments on how we might be able to improve and develop the park for the next 20+ years. With this in mind, the Royal Docks Team invite you to have your say to enhance and shape the park for generations to come.
To comment online go to our survey, or you can attend one of the two community drop-in sessions being held at The Crystal over the month of February. They take place on:
Thursday 13 February, 8:30 am – 5 pm
Wednesday 19 February, 8:30 am – 5 pm
Don't miss out on the opportunity to have your say!
The consultation opens on 4 February 2020 and closes on 15 March 2020.

While at the drop-in sessions you will also have the opportunity to have your say on tree planting around the Royal Docks.

For your visit
Food & Drink
Heroica Lounge
It's a bus, it's an Italian restaurant; you decide whether to order pizza or pretend to drive.
Food & Drink
Fox@ExCeL
Relaxed pub sprawling across different rooms of an old tobacco warehouse.
Food & Drink
Airline Cafe
No one complains about all-day breakfast for under a fiver. Right next to the ExCeL, this cafe-diner opens early to late.