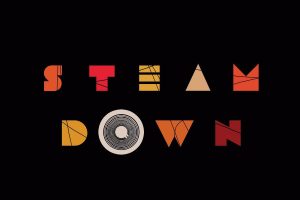 Art & Culture
Steam Down + DJ Born Cheating at EFG London Jazz Festival
Jumping off from the sonic springboard of Afrofuturism, grime and future soul, all fused together with the fearless spontaneity of jazz, Steam Down is an arts collective comprised of Ahnansé, Alex Rita, Brother Portrait, SawaManga, Theon Cross, Nadeem, Benjamin Appiah, Dominic Canning and Nache, as well as a wider community of notable artists and musicians across the UK.

Founded by multi-instrumentalist, composer and producer Ahnansé in 2017, Steam Down has born out of a weekly jam session and quickly become a household name in London's music scene.
Striving to create an immersive experience, the band is complemented by the exuberant energy of the extended family who regularly attend to bring vibes and support. Together, musicians and everyone else who shows up and gets down, go on an aural exploration of past-present-future, with each performance proving to be a co-creative piece of magic where everyone's participation matters.
The cutting-edge band is set to generate an exciting performance at Compressor House between their wide musical family and audience, joined by special surprise guests for the evening.
Born Cheating is a London based DJ, founder of record label Tiff's Joints, and part of the city's Touching Bass community. In addition to running the label and DJing, he is also the guitarist for Lunch Money Life.

Having been obsessed with music from a young age, it was discovering hip-hop in his teens that led him to try his hand at DJing. Style wise, he selects from a wide spectrum of sounds, cultures and eras - just at home mixing Herbie Hancock into Sandra de Sá as he is blending more contemporary dancefloor cuts.
For your visit
Outdoors
Royal Wharf Gardens
In this garden in the centre of the Royal Wharf development, you'll find a memorial to the Silvertown Explosion.
Food & Drink
Starbucks Coffee
Just off the walkway linking Custom House DLR with the ExCeL, this branch is a favourite quiet spot for students.
Business
Tate & Lyle Sugars
This refinery on the banks of the Thames has been producing sugar by the tonne for over 140 years.