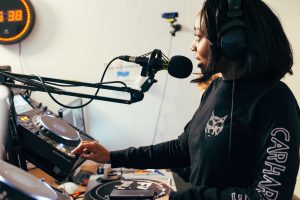 Art & Culture
Erica McKoy at EFG London Jazz Festival
Erica McKoy is a presenter and DJ from London. She currently hosts the flagship morning show WW DAILY on Worldwide FMshares the best in exciting and promising new music. Her work has taken her all over the world with DJ gigs and research projects in East Africa, Europe and North America.
For your visit
Food & Drink
Starbucks Coffee
Just off the walkway linking Custom House DLR with the ExCeL, this branch is a favourite quiet spot for students.
Places To Stay
Good Hotel London
This floating hotel is also a not-for profit organisation that invests in the local community.
New Arrival
Art & Culture
Making Space: Go the Distance
Installation artwork by Jessie Brennan, created with Peacock Gym by collecting images from the archive of this renowned community boxing hub. Part 1 of 4.