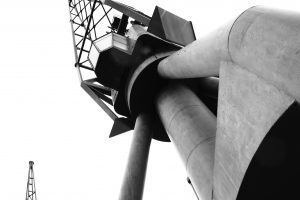 Join the Docks
DOCK LANDS PEOPLE by Michele Turriani and Trinity Art Gallery
Delve into stories, articles and stunning photography with Michele Turriani and Trinity Art Gallery's community-based project, DOCK LANDS PEOPLE. This project celebrates the diverse characters, architectural structures and heritage within the Royal Docks and documents the people who work and/or live in the surrounding areas, and have done so for most of their lives.
DOCK LANDS PEOPLE aims to introduce a new community to their own history and an old community into today's history in the making, through the images and stories of people who call this area their home. Immerse yourselves in the images and stories of these characters from the Docks and consider the wealth and depth of heritage around them, and other local residents.
London-based Italian photographer and director, Michele Turriani centres this work with photographic essays which have been produced and co-ordinated by artist-led gallery, Trinity Art Gallery, which is based in London City Island & Goodluck Hope in the Docklands.
DOCK LANDS PEOPLE is available to view online now and an offline window exhibition will take place behind glass at Lower Dock Walk from the 18 December until 31 January. Enjoy however you would prefer.
---
Further information on the latest government guidelines can be found here: https://www.gov.uk/guidance/local-restriction-tiers-what-you-need-to-know
For further information on 'what you need to know' the Mayor of London has published information on the London.gov website which can be found here: https://www.london.gov.uk/coronavirus/coronavirus-what-you-need-know
For your visit
Activities
Royal Docks CrossFit
Gym dedicated to CrossFit, the gruelling strength and conditioning phenomenon that athletes swear by.
Community
Henley Arms
A local fixture since 1901, this pub seems untouched since its post-war refurbishment. Step back in time and enjoy a pint over a game of darts.
Business
London City Airport
The only London airport that's actually in London.