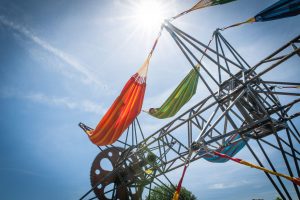 Royal Docks Summer Programme
Relaxerette (GDIF)
As part of the Greenwich+Docklands International Festival, the Royal Docks offers you the chance to take a load off and spend a few hours on a different plane.
Relaxerette lets you lie back in a hammock, put some headphones on and immerse yourself in stories and tales that will take you to a place free of stress and the rigors of daily life.

The brainchild of Arjan Kruldof, this fairground ride invites you to change your perspective, through the power of poetry and sound.
The four-hour ride if completely FREE. Don't miss out on this unique experience.
Please note Relaxerette is suitable for ages 6+ / minimum height 1.2m.
By Arjan Kruidhof, Lân Fan Taal & Explore the North

9th & 10th September
1pm-5pm
Access information and further details here.

Address
Rathbone Market, Barking Rd, London E16 1EH
Closest station: Canning Town (Jubilee Line & DLR)