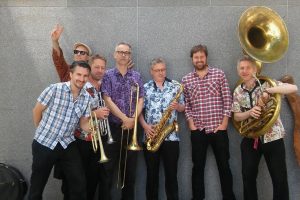 Art & Culture
Brass Volcanoes
Want to get into the Christmas spirit then why not head to one of our two markets and hear the fantastic Brass Volcanoes playing some fabulous brassy, jazzy, Christmas songs. Whilst you're there you can grab some food and some last minute Christmas presents.
For your visit
Art & Culture
Brick Lane Music Hall
This cheery oasis of Victorian nostalgia hosts unique Music Hall-style shows which attract visitors from all over the world.
Art & Culture
Millennium Mills
Derelict early 20th century flour mill turned screen icon; this Royal Docks landmark is due to be redeveloped.
Art & Culture
Making Space: Custom House Is Our House
Installation art comprising a life-sized group portrait of individuals who live and work on Freemasons Road. Part of the Making Space series by Jessie Brennan.