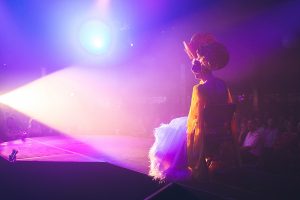 Events
The Royal Docks plays host to ARTPARTY Weekend
The Royal Docks is set to enhance its reputation as a venue for some of the most daring, diverse and creative talent in London by playing host to the ARTPARTY weekender, which takes place on the 23rd of September and lasts for three nights in Canning Town.
Artparty Weekender, produced by Social Convention, working in partnership with the Royal Docks Team, is a completely FREE event all about bringing together the curious, the moment-makers and the party-starters
We'll be celebrating some of the most talented artists London has to offer. Expect an unconventional array of DJs, including a headline slot with Daytimers' Mera Bhai, blistering live jazz from INSXGHT, drag hilarity in the afterlife from Séayoncé (Soho Theatre, Vault After Dark Award), installation art, flash tattoos, and of course delicious plant-based gourmet toasties and fabulous hard & soft cocktails from Pernod Ricard and Franklin & Sons.
It will be a great time to appreciate the next wave of culture leaders and artist-innovators and have a good time whilst doing it. And tickets for this exciting event are absolutely FREE.
Following the festival, the ARTPARTY concept will continue with monthly events, exhibitions, and gigs at Social Convention's new production space in London's historic Royal Docks, where the team will mentor and nurture the best of London's artistic talent to embark on successful and meaningful creative careers.
The Royal Docks Team is partnering on this event as part of the Dock Local programme, and to support the arrival of an exciting new creative organisation in the Royal Docks.
Art Party Weekender is completely free to attend, just register at www.socialconvention.org/weekender.
Closest station: Canning Town (DLR & Jubilee Line)
For your visit
Art & Culture
Making Space: The People's Plan
Large-scale artwork reproducing 'The People's Plan for the Royal Docks,' a 1980s community-led project to oppose the airport.
Community
Royal Docks Learning & Activity Centre
RDLAC has spent 50 years serving the North Woolwich community, from after-school clubs to conservation projects.
Food & Drink
China Palace
Dim sum, karaoke, and tradition Chinese cuisine next to the ExCeL centre.